September 13, 2019 | From the Desk of Nobscot CEO, B. N. Carvin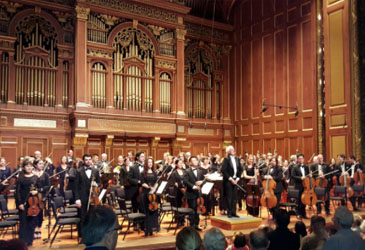 There was a neat little article some years ago in the back pages of Optimize Magazine about bringing out the passion in employees. The author was referring to the kind of passion that encourages a person to give their very best toward a job well done. What makes this article so interesting is that it's written not by a business manager but by an orchestra conductor, Benjamin Zander of the Boston Philharmonic Orchestra.

I never really thought of an orchestra conductor in terms of business management but when you stop and think about, what more does a conductor do than manage a team to greatness? As conductor Zander puts it, "The conductor's job is to awaken possibilities in others." If that's not the job of every manager, than I don't know what is.

Zander suggests treating all employees as if they are "A" employees...and letting them know they are "A" employees. He then suggests that you encourage your employees to earn and maintain that "A" rating. Zander's concepts work by focusing on each employee's possibility rather than on his or her limitations. He also encourages extensive feedback. Anything that can be used to help employees become more effective is welcomed. For example Zander puts a white sheet of paper on each of his musician's music stand. He invites the musicians to write about anything they think will improve their personal performance including the music, the overall performance and even Zander's conducting.

Feedback can be a powerful tool for bringing an orchestra or an organization to greatness. The one cautionary note to remember is that asking for feedback from employees creates responsibility to respond . See the article titled "Be Prepared to Act once you Ask" in the Nobscot employee retention resources library.

Unlike an orchestra conductor, in business we can't just place a sheet of paper on a music stand but HR practioners do have two effective feedback tools to work with: the employee survey and the exit interview. Employee surveys are used to survey current employees and can tell you a great deal about what is needed to help employees succeed. Exit interviews are another often overlooked area for employee feedback. Employees that are leaving can be a tremendous source of information on exactly what a company needs to do in order to speak to the passion for success that resides buried in every individual. These exiting employees may be leaving, but they hold the key to motivating the remaining and future employees to make beautiful music. For more information on using surveys and exit interviews see Nobscot's WebExit, exit interview management system and Nobscot's employee survey systems.