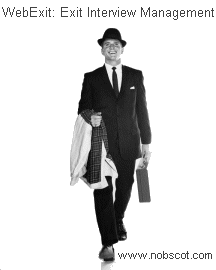 Nobscot Corporation is a profitable, self-funded company. We pay careful attention to our top and bottom lines. If you would like more information on investing in a dynamic and profitable company, please email inquiries to
info@nobscot.com
.
The Human Capital Management
Solutions Market
The following Information (excluding headers) is excerpted from Merrill Lynch & Co, The Knowledge Web: Human Capital Management-People Power, Michael T. Moe, CFA, Director of Global Growth Research, Henry Blodget, Senior Internet Analyst, Global Coordinator, May 2000.
The Market
Definition and Importance
Human Capital Management encompasses the activities associated with Obtaining, Developing, Managing and Retaining a company's most valuable asset, its people. A company's ability to execute on each link in its human capital value chain is critical to its success. It must be able to recruit, train and retain the best knowledge workers available, or it is unlikely to win in the long run.
The Internet enables human capital solutions that pre-net were simply unthinkable.
Every link in the human capital value chain is being analyzed and streamlined in much the same way as have other markets such as travel, stock brokerage and B2B procurement.
The Need
Urgency to Reduce Time to Hire and Increase Retention
As human capital continues to increase in importance as a strategic asset, the urgency applied to obtaining it will increase as well…the ability to hire qualified employees quickly and successfully will have a significant influence on the future success of any company, as does the ability to effectively manage and retain those employees.
Current Crisis 1
in the Employee Selection Process
Ironically, the same qualities that enable the Net to provide better information exchange than ever before also threaten to bury its users under an avalanche of data.  As a result, the ability to effectively capture, access, maintain, filter and share information is paramount.
Current Crisis 2
in Employee Retention
The importance of employee retention has been largely ignored by businesses for years.
It is proven that companies can generate an immediate and significant ROI from retaining their MVE's (Most Valuable Employees) through the use of human capital solutions that include lifelong learning, effective deployment and constant feedback and assessment of the employment experience.
The Payoff
With the unprecedented importance of human capital, businesses must refocus on retention…companies providing human capital management solutions …stand to benefit from this enormous market opportunity.
Investable Themes
in HCM
Software and service providers that are streamlining core human capital processes including recruiting, hiring, deployment, tracking, project management and managing intellectual capital. In addition, HR Consulting firms that help corporations design, manage and measure their human capital initiatives could present a sizeable future investment opportunity.