The Company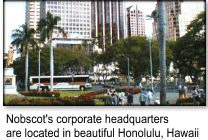 Nobscot Corporation, the pioneer in exit interview management software, was founded in April 2000. Nobscot released its flagship product, WebExit, in January of 2001. In December of that year, WebExit was crowned one of the Top 10 HR Products of the Year by HR Executive Magazine. Today WebExit is used to automate the exit interview process in over 20 countries worldwide with more than 10,000 exit interviews having been completed to date.
Nobscot Corporation is also the recognized leader in Turnover Prediction Mapping having introduced the concept in 2002. Turnover prediction involves a set of algorithms comparing exits to employee surveys which identify the source and location of future turnover.
Management
Nobscot's staff of professionals are skilled in both human resources and software development. The company's management team is headed up by Beth N. Carvin, CEO and President. Carvin is an expert in employee turnover and retention and the originator of the turnover prediction mapping theorem.
Ms. Carvin has over fifteen years of experience in recruiting, human resources, business management, sales and marketing. Ms. Carvin was previously founder/managing partner of Excel Employment for six years and an HR and Business Development Officer with BancWest Corporation for 4 years. She teaches classes in Hiring The Best, Ethics In Banking, and Employee Relations for the American Institute of Bankers. She is a member of the Society For Human Resource Management.
Bruce H. Daly, VP of Software Development, runs the software side of the house. Mr. Daly has 20 years of development experience. He has honed his skills at Spirent, Hewlett Packard and Raytheon in the design and development of advanced operating systems in the fields of high speed network testing, satellite operation and control, and financial transaction processing. Mr. Daly joined Nobscot Corporation as co-founder and head of development in 2000.
Corporate headquarters and R&D labs are located in Honolulu, Hawaii.